Saratoga Hospital, B.E.S.T., NYRA Gather for Dedication and Ribbon Cutting of the Saratoga Backstretch Clinic
---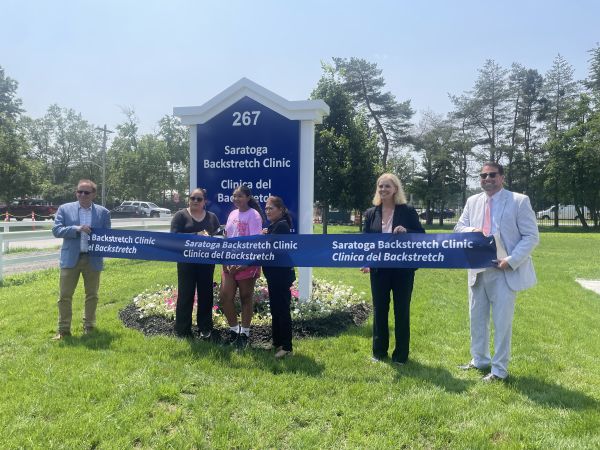 SARATOGA SPRINGS, N.Y., July 13, 2023—Representatives from Saratoga Hospital, the Backstretch Employee Service Team (B.E.S.T.), and NYRA, as well as Assemblywoman Carrie Woerner, philanthropist John Hendrickson, and members of the community gathered near Gate 16 at the Saratoga Race Course on Tuesday morning to celebrate the Saratoga Backstretch Clinic.
 "This crowd today is filled with our community, with our family," said Jill VanKuren, president and CEO of Saratoga Hospital. "That is the message I have for today: This clinic is more than a clinic. It is a place of refuge for the people that give their lives to take care of us, our horses, our livelihood. This community is truly a family, and there is nothing we cannot do together."
 The Saratoga Backstretch Clinic includes four exam rooms, an on-site lab, as well as administrative space. Saratoga Hospital clinicians will provide primary care and behavioral health services, along with specialty services in dermatology and endocrinology. Construction began last summer.
 "The healthcare clinic will be an indispensable resource to the people who form the backbone of the sport in New York: the backstretch community," said David O'Rourke, NYRA president and CEO. "NYRA thanks the Backstretch Employee Service Team (B.E.S.T.), Saratoga Hospital for its partnership and expertise, and John Hendrickson for funding construction of this remarkable facility as a tribute to his late wife, Marylou Whitney, who was a tireless champion for horse racing's 'unsung heroes.'"
 According to John Hendrickson, his late wife believed Saratoga should be the summer place for everyone, including the backstretch workers that care for the horses. "This is a really great day," Hendrickson added. "I know Marylou is looking down and is extremely happy."